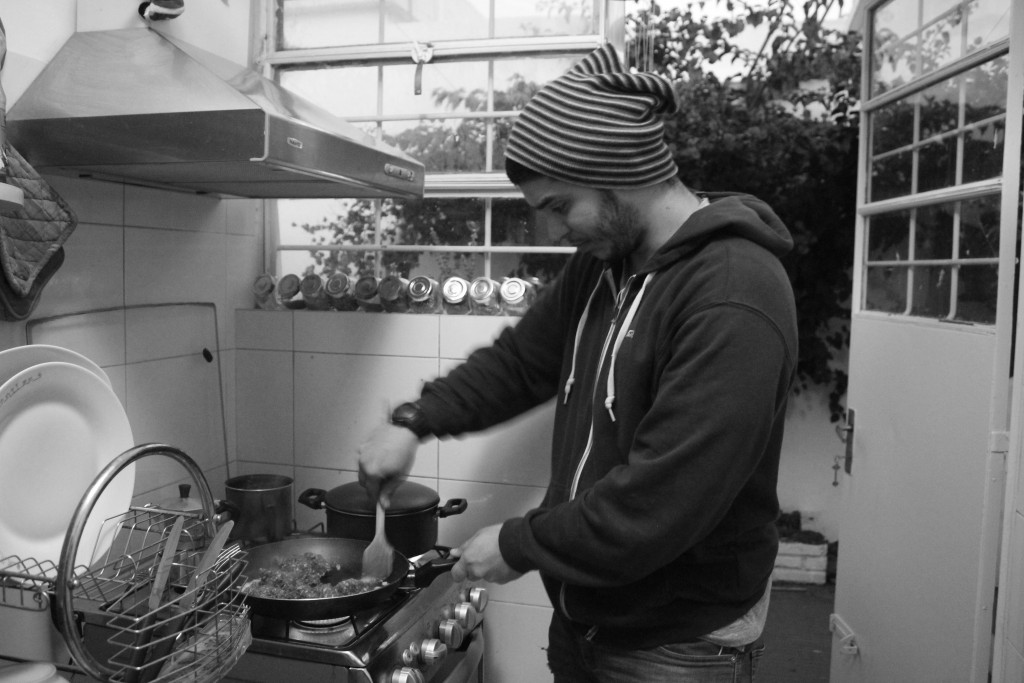 Jorge habe ich an der Escollera Sarandi kennengelernt, meinem Lieblingsort in Montevideo. Nach fast fünf Monaten in der Stadt hatte ich es das erste Mal geschafft, kurz vorm Sonnenuntergang dort anzukommen. Jorge fragte mich irgendetwas, das ich nicht verstand, nachdem ich direkt vor ihm, der auf dem Mäuerchen saß, Fotos von den Fischermännern gemacht hatte. Zwar weiß ich noch immer nicht, was seine erste Frage gewesen war, aber wir kamen ins Gespräch. Und weil ich nach fünf Minuten sagte, ich müsste leider ans andere Ende der Escollera, weil dort die Sonne noch schien, nennt er mich seitdem Sol. (Und er weiß gar nichts von meinem Unternehmen Father & Sun). Jorge ist 23 und erst vor ein paar Wochen aus Venezuela seiner Schwester nachgezogen, weil es sich in seinem Land in diesen Tagen des Totalzusammenbruchs nicht mehr so recht leben lässt.
Wir hatten uns für die Feria, den großen Straßenmarkt auf der Tristan Narvaja verabredet, wo wir unsere Schwarzmarktzigaretten erstanden und beschlossen nach dem zweiten Bier spontan, dass er für mich kochen würde. Und zwar das Gericht seiner Kindheit, dass er sich zwei Jahre lange jeden Tag selbst gekocht hatte, weil die Eltern bei der Arbeit waren. Im Prinzip entspricht die Carne Molido einer Bolognese Sauce, aber in die würden ja im Leben keine Kartoffeln hineingemischt werden, was bei Jorges Rezept durchaus mal vorkommen kann. Jedoch nicht heute. Heute sind es:
500 g Rinderhackfleisch
½ Zwiebel
Olivenöl
Tomatensauce, ca. 250 ml
Salz, Pfeffer
Pasta
Zwiebel kleinschneiden, in die Pfanne mit dem heißen Olivenöl hineingeben und kurz darauf das Fleisch dazutun. Braten, salzen, pfeffern, Tomatensoße dazu, ziemlich lange vor sich hinköcheln lassen, die Pasta derweil kochen und voilá.
Obwohl die Soße etwas versalzen war, schmeckte es doch ziemlich gut.
Und mit Jorge ist es sehr nett, auch wenn er noch im Laufe des Abends versuchen wird mich zu küssen (und nicht darf). Jorge erzählt mir von einer Fernsehshow, die in Venezuela immer so um 3 Uhr morgens lief und in der ein nackter Mann in Schürze und eine nackte Frau zusammen kochten. Doch hat er das Kochen nicht von dieser Show gelernt, sondern beim Experimentieren. Trotz seines jungen Alters, hat Jorge schon viel von der Welt gesehen, ist von Frankreich nach Spanien den Jakobsweg mit dem Fahrrad entlang gefahren und hat ein Jahr in Atlanta studiert (Atlanta! Wo ich einst die Nacht mit einem Landstreicher verbrachte!) und ist an den Stränden von Savannah abgehangen.
Seine Familiengeschichte ist ziemlich spannend, seine Eltern haben sich mit einem selbstgegründeten Unternehmen aus der Armut befreit und viele Jahre später, zu Chavez Zeiten, wurden Ihnen zwei ihrer drei Unternehmen einfach weggenommen, zugunsten der gerechten Verteilung sozusagen. Heute, so habe ich es zumindest verstanden, ist von dem einstigen, selbst erworbenen Reichtum nichts übrig geblieben und die Familie versucht, an unterschiedlichen Orten in Südamerika, ihr Überleben zu sichern.
Nachdem Jorge, ungeküsst, nach Hause läuft, schickt er noch eine Entschuldigungssms. Und ich wäre gar zu gerne mit ihm noch ein- zweimal durch die Straßen Montevideos spaziert, hätte mit ihm Bier getrunken und der Sonne beim Untergehen zugesehen, aber drei Tage später ist schon meine Abreise nach Brasilien und es war zeitlich einfach nicht zu schaffen.
I met Jorge at the Escollera Sarandi, my favourite place in Montevideo. After almost five months in town, I managed for the first time to be there fort he sunset. Jorge asked me something I didn't understand, after I was taking photos of the fishermen, right in front of him. I still don't know what his question was, but we started to talk. And because I said after five minutes of conversation, that I sadly had to leave to the other end oft he Escollera, because the sun was still shing there, he calls me Sol now (and doesn't know anything about my ficticious enterprise Father & Sun). Jorge is 23 and moved from Venezuela to Montevideo in the flat of his sister just a few weeks ago, because it's to hard these days to live in his country, where everything goes down the drain, these days.
We had met to visit the Feria, the big street market from Tristan Narvaja, where we got our blackmarket-cigarettes and decided after the second beer, that he would cook for me today. It would be the dish of his childhood, the one he was always cooking himself fort wo years, when his parents were at work. The Carne Molido is pretty much the same like a Bolognese sauce, but in the latter, you would never find any potatoes. Which could happen to the former. Not today though. Today it's:
500 g minced meat
½ onion
olive oil
tomatoe sauce, ca. 250 ml
salt, pepper
pasta
Cut the onion in small pieces, give it in a pan, where the hot olive oil, already waits for it, and add the meat soon after. Fry it, salt it, pepper it and add the tomatoe sauce. Let it simmer, as long as you like, better longer then shorter, and cook the pasta in the meantime. Voilá.
Even when the sauce has a bit too much salt, it's still good.
And the evening with Jorge was very nice, even when he would try to kiss me later (and wouldn't be allowed to). Jorge tells me about a TV show in Venezuela, which were always on at around 3 am, and wherein a naked man with an apron and a naked woman, without anything, were cooking together. But he didn't learn cooking from this show, but by experimenting. Despite his young age, Jorge did already see a lot of the world. He went along the Camino de Santiago from France to Spain by bike, studied a year in Atlanta (Atlanta! Where I one year ago spend a night with a vagabond) and hanged out at the beaches of Savannah.
His family story is interesting and sad at the same time: Jorge's parents got out of their poorness in founding an enterprise (delivering something to somewhere, didn't understand it correctly), but later lost two of their three enterpises in the times of Chavez, for making things just, as they say. Today, this is how I understood it, there is not much left from the richdom of once, and the family tries in different places of South America to survive.
After Jorge went home, unkissed, he sends a sorry-sms. And I would have loved to stroll another one or two times through the streets of Montevideo with him, to drink beer, and watch the sunset, but there are just three days left until my leaving to Brasil, and just not enough time.