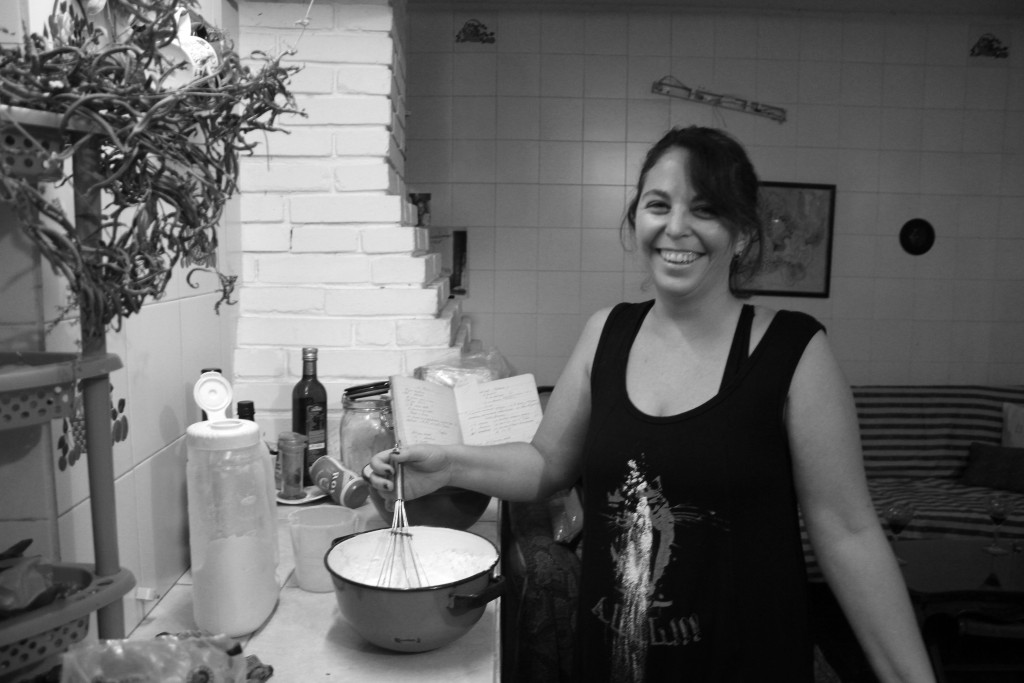 Lucia hat mich zu Bananenkuchen eingeladen. Das ist der Lieblingskuchen ihrer Kindheit, zubereitet von ihrer Großmutter Margarita, die als Sekretärin arbeitete und von den beiden Großmüttern die eher aufwendigen Gerichte kochte. Lu ist die Schwester von meinem Mitbewohner in Montevideo. Sie ist 37, studiert Kulturwissenschaften, unterrichtet Englisch für Erwachsene, fotografiert gerne und gut und hat mit einer Freundin ein kleines Siebdruckunternehmen, Plim Taller. Sie bedrucken T-Shirts, Taschen und andere Accessoires, beispielsweise mit Fahrrädern. Sie ist auch in einer feministischen Gruppe aktiv, beklagt den Machismo in Uruguay und findet es seltsam, dass uruguayische Männer vor dem Sex immer betonen müssen, dass Sie weder Kind, noch heiraten, noch Beziehung wollen. (Ich habe vorgeschlagen, wenn sie das nächste Mal Sex hat, eben diese Ansagen selbst zu machen). Als ich ankomme, ist sie gerade dabei, eine Nachricht an einen Mann zu schicken, den sie eine Nacht zuvor kennengelernt hatte, nachdem sie überfallen worden war. Was für ein romantischer Anfang, dachte ich natürlich. Wie es halt doch ziemlich häufig in Montevideo passiert – ich hatte schon zwei Überfälle in meiner Straße beobachtet: Motorradfahrer, die Frauen ihre Handtasche abnahmen – hatte ein Mann mit Fahrrad Geldbeutel und Hand von Lu gefordert, die zu Fuß unterwegs war, nachdem sie vom Club nach Hause ging. Es war das zweite Mal in ihrem Lebe,n und zum zweiten Mal rannte Sie, anstatt dem Mann die geforderten Dinge auszuhändigen, einfach davon. Die Seite des Auswärtigen Amts empfiehlt in solchen Momenten für sämtliche Länder Lateinamerikas, unbedingt sofort nachzugeben. Was auch in Montevideo "common sense" ist, natürlich. Beide hofften wir im Nachhinein, dass es ihre kluge Intuition war, die ihr im Falle realer Gefahr auch anders geraten hätte. Kurz bevor sie an ihrem Haus angekommen war jedenfalls, hielt ein Auto mit zwei Männern darin, die fragten, ob sie Lu nach Hause bringen könnten. Verständlicherweise wollte sie das nicht, da sie die Männer auch nicht kannte. Und dann traf Lu sie vor ihrer Haustüre wieder, weil der eine der beiden ihr Nachbar war, wie sich herausstellte. Der andere aber war es, der ihr gefiel und so begann ein langes Gespräch, dass sich in Form von whatsapp Nachrichten fortsetzte. Hoffen wir, dass dies der Beginn einer großen Liebesgeschichte war – der Story wegen.
Hier ist das Rezept, das im Kochbuch der Großmutter nur mit "de Banana" überschrieben ist: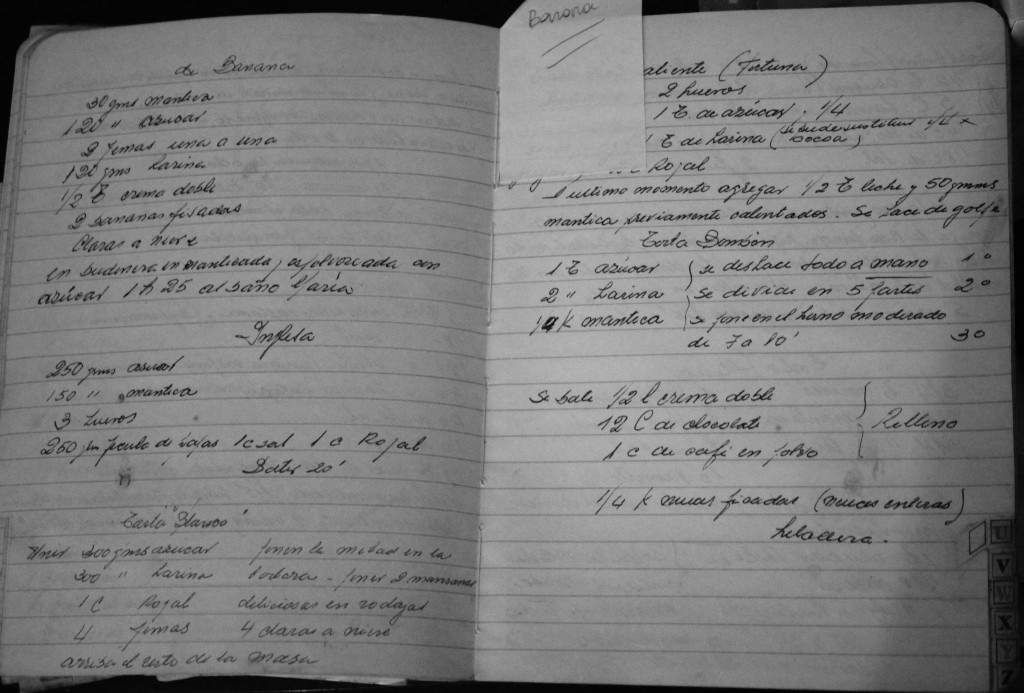 30 g Butter
120 g Zucker
2 jemas una a una?
120 g Mehl
½ ( ¼ ) l Sahne
2 überreife Bananen
Butter, um die Form zu fetten, Zucker um den Boden des Kuchens ein wenig zu karamellisieren
Bananen mit einer Gabel zerdrücken, alles miteinander vermischen, bis etwas entsteht, das einem Teig ähnelt und in die Form geben.
Während wir auf den Kuchen warten, setzen wir uns in die laue Sommernacht und trinken Wein und rauchen Zigaretten. Nach der romantischen Überfallgeschichte frage ich, wie das denn mit den Männern insgesamt sei, weil ich in den Kolumnen einer venezolanischen Journalistin, die nach Montevideo gezogen war, gelesen hatte, es sei schwierig. Zwar werden auf den Straßen schrecklicherweise ununterbrochen Bemerkungen gemacht oder gehupt, wenn man als Frau an Männern vorbeigeht, aber sich um eine Frau zu bemühen, das fiele den uruguayischen Männern gar nicht ein. Lu meint, das stimme schon und dass fast keine ihrer Freundinnen einen Freund hätte. Aber keine von ihnen sei unglücklich darüber, sagt sie auch. Bei Lu höre ich auch das erste Mal von dem Brauch der Quinziniera, der in ganz Lateinamerika noch besteht. Mit 15 Jahren sind die jungen Frauen bereit, der Gesellschaft präsentiert zu werden, bzw. den potentiellen Ehemännern und zu ihrem Geburtstag wird ihnen deshalb eine Riesenparty ausgerichtet. Die Mädchen in Uruguay dürfen sich meist zwischen einer Party oder einer Reise entscheiden und Lu war damals mit ihren Freundinnen in Florida. Wenn der Hintergrund des Brauches auch nicht so schön sein mag, haben es die Mädchen an ihrem 15. Geburtstag aber doch richtig gut.
Der Kuchen ist sehr lecker und schmeckt ziemlich ähnlich wie ein Banana Bread, nur dass wir dazu Dulce de Leche essen, die man hier wirklich zu oder in allen Desserts isst.
Lucia invited me for Banana cake (not bread). It is her favourite childhood-cake, made by her grandmother Margarita, who used to work as a secretary and was the one of the two grandma's which prepared the more fancy dishes. Lu is the sister of my flatmate in Montevideo. She is 37, studies Cultural Studies, teaches English for adults, loves to take photos and does them good, and is the owner of a small screen print enterprise, Plim Taller, which she does together with a friend. They print T-Shirts, bags and other accessories, with things like bicycles. Pretty: As well she is politically active in a feminist group, is horrified about the Machismo in Uruguay and finds it strange that Uruguayan men tend to stress before having sex that they are not be interested in kids, nor marriage, nor relationships. (I suggested she should make the same statement the next time she will have sex). When I arrive she is just writing a text message to a man she met the previous night, after another man had tried to rob her. What a beautiful and romantic beginning, I was thinking naturally. She was on her way home from the club when it happened, how it often happens in Montevideo: a man with a bike asked Lu, who was walking innocently, in a very unfriendly way for her wallet and her phone. It was the second time in Lu's life that she got robbed, and it was the second time that she just ran away, instead of handing the stuff over right away, like it is common sense here/there. We hoped that it was just her very clever intuition telling her so, since nothing happened in the end. Shortly thereafter a car stopped at her side, two men, asking if they could take her to her home. Surely she didn't want to, since in that moment they just possessed the wrong sex for such decisions and she didn't know them. And then she met them again, in front of her door, because one of them happened to be her neighbor. But it was the other one she took an interest in, and so began a long conversation blending into Whatsapp messages, and we hope that this will be the start of a great love story…
Here is the recipe, which goes in the grandmother's cookbook simply under "de Banana":
30 g butter
120 g sugar
2 jemas una a una
120 g flour
¼ l cream
2 almost black or black bananas
Some butter for the form, some sugar, to get a caramelizing effect on the bottom of the cake
Mix everything properly, put it in the form and bake it for approximately 30 minutes
While we wait for the cake to finish baking, we sit outside in the patio in the warm summernight and drink wine and smoke cigarettes. After the romantic robbery story, I ask her about men in general here in Uruguay, since I read the columns of a Venozuelan journalist who moved to Montevideo, which were saying it is totally difficult. On the one hand, there is an awful lot of cat calling going on in the streets, but to court a woman, that is supposed to be very difficult for them, says… Lu agrees and remarks that almost none of her female friends has a boyfriend. But none of them is unhappy about it, she also tells me.
Lu is also the one who tells me the first time about the tradition of the quinziniera, which is still existing in the whole of Latin America. With fifteen the girls are ready to be presented to society, which also could mean to their future husbands and because of this, they will have a big, big birthday party. The girls in Uruguay nowadays can normally choose between a big party or a journey. Lu was back in the days together with her friends in Florida. Even if the background story is not that beautiful, it is a great thing to have your fifteenth birthday as a girl in Uruguay.
The cake is very yummy and tastes a lot like Banana Bread, but here it is accompanied by Dulce de Leche, which you eat in Uruguay with every dessert.